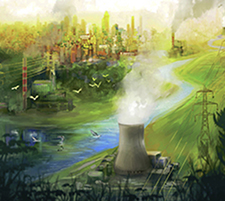 Riverine ecosystem services and the thermoelectric sector: Strategic issues facing the Northeast. [PDF].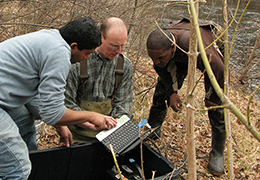 WSAG researchers look at newly downloaded data from the Lamprey River deployment site near Packer's Falls in Lee, NH. [full story].
Research
Aquatic Biogeochemistry
Nitrogen and carbon cycling in aquatic environments
Global biogeochemistry of nutrients and carbon
Controls of nutrient flux and attenuation in river networks
Development of continental scale aquatic ecosystem models
Arctic and the Cryosphere
The effect of climate change on the polar ice sheets
River ice responses to a warming Arctic
Interactions between land cover/use change and hydrology
Pan-Arctic and global-scale hydrometeorological modeling
Macro-Hydrology Resources
Ecosystem services in suburban and agricultural New England landscapes
Characterization of hydrology-related ecosystem services
Feedbacks among biogeochemistry, hydrology, and human activities through time
Biogeochemical and hydrological responses to urbanization and climate change
Banner image: Saco River Estuary (photo courtesy of Joe Dube at http://joedube.com).